Current topics, themes, musings and travel notes
Detail of Bacchus by Caravaggio
Caravaggio to Chianti Classico
I've had a great time touring Tuscany this spring. Not the least of which was an overnight in Florence with my wife—with the mission of visiting the Ufflizi Gallery before the tourist hordes returned in summer.
We first went to the Ufflizi 35 years ago in October, and had to fight crowds and wait in line just to get a glimpse of a few famous Botticellis (Like "Birth of Venus").
I love wine and cuisine, but art is the pinnacle of inspiration and the esthetic pyramid. Still I can't enjoy art in a mob scene any more than I'd enjoy great wine served from a keg in plastic cups. So Florence's barely-open late-lockdown state offered an opportunity.
We hit the museum at 8.30 in the morning, and it was empty. Sure there were a few other people, but at times we had entire halls and exhibition rooms to ourselves with great Renaissance works from Botticelli, Titian, Michelangelo, Raphael, Filippo Lippi, and my favorite — Michelangelo Merisi, aka Caravaggio.
Caravaggio was a punk, street brawler and alleged murderer — a man as crazy as he was gifted with painting light and gritty reality.
The Uffizi has few of his works, but it's got his Bacchus — perhaps the wine world's most famous painting. (See the detail above)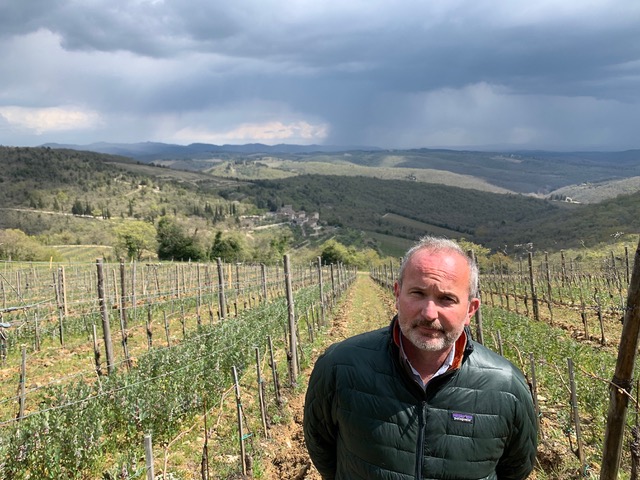 Art sets the mood for appreciating wine, and…..(how's that for a transition?)….my touring of New generation Chianti Classico producers continued with Michele Braganti of Monteraponi — a once dawdling youth whose life seems to have been saved by farming and producing wine.
"My mother sent me here as a punishment," Michele says of his exile to the wilds of Radda more than 20 years ago.
Now he makes stellar terroir-driven wines. Read my column at Wine Spectator.
Also read my earlier NewGen Chianti Classico Part 1: Istine