Current topics, themes, musings and travel notes
Are you Susu?
The return of Susumaniello and other innovations liven up sleepy Puglia's wine scene
I recently travelled to the heel of Italy's boot and was stunned. Miles inland from Puglia's booming sandy coastlines, the countryside of Salento (the lower part of the heel) was burned out and barren. Here, tens of millions of olive trees have succumbed to a bacterial blight over the last decade as officials wrung their hands with no surefire cure.
"I couldn't stay here and just watch everything die," says Antonio Intiglietta the Puglian native and Milan entrepreneur, who has replanted some of those stony olive orchards to vineyards. After studying soils, a Burgundy wine nursery recommended Bordeaux red varieties Cabernet Sauvignon, Cabernet Franc and Petit Verdot for his Tenuta Liliana.
"I am convinced that, in these soils with the sun and wind and the water here, you can do something great," says his Tuscan winemaker Carlo Ferrini.
Tenuta Liliana owner Antonio Intiglietta in a Bordeaux blend vineyard
Puglia's wine scene is becoming more and more interesting these days – meaning elegant wines that defy the Puglian image of overripe sweet Primitivo (aka Zinfandel).
At Masseria Li Veli, for example, the Falvo family is exploring native easy-drinking varieties like Susumaniello ("It's a democratic wine – easy to drink, but not simple," says Alessandro Falvo)
These are interesting wines that flow from an interesting scene.
Read about it in my latest Robert Camuto Meets… at winespectator.com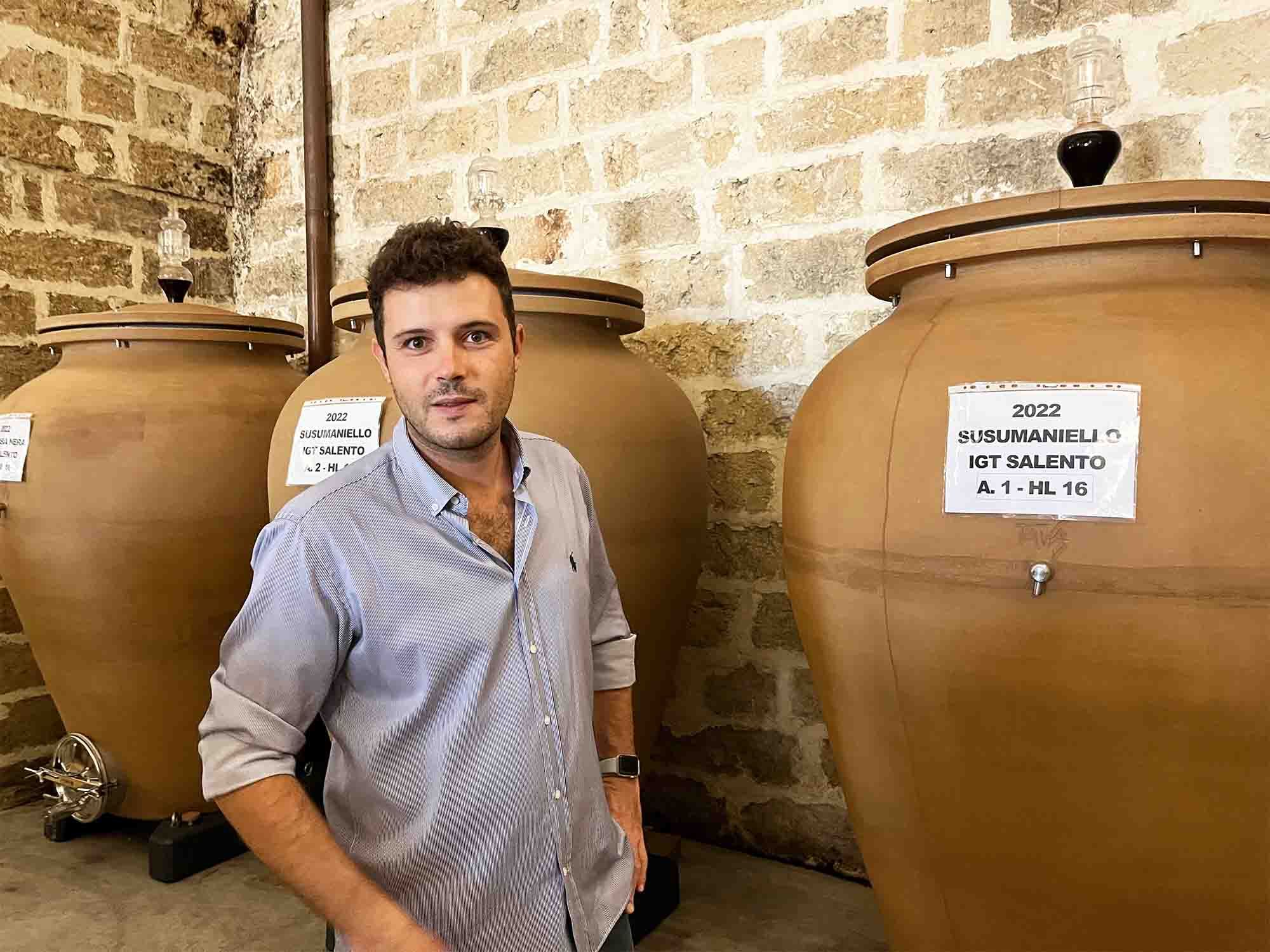 Alessandro Falvo in Masseria Li Veli's winery. From 2022 part of its Susumaniello red is aged in clay amphorae.