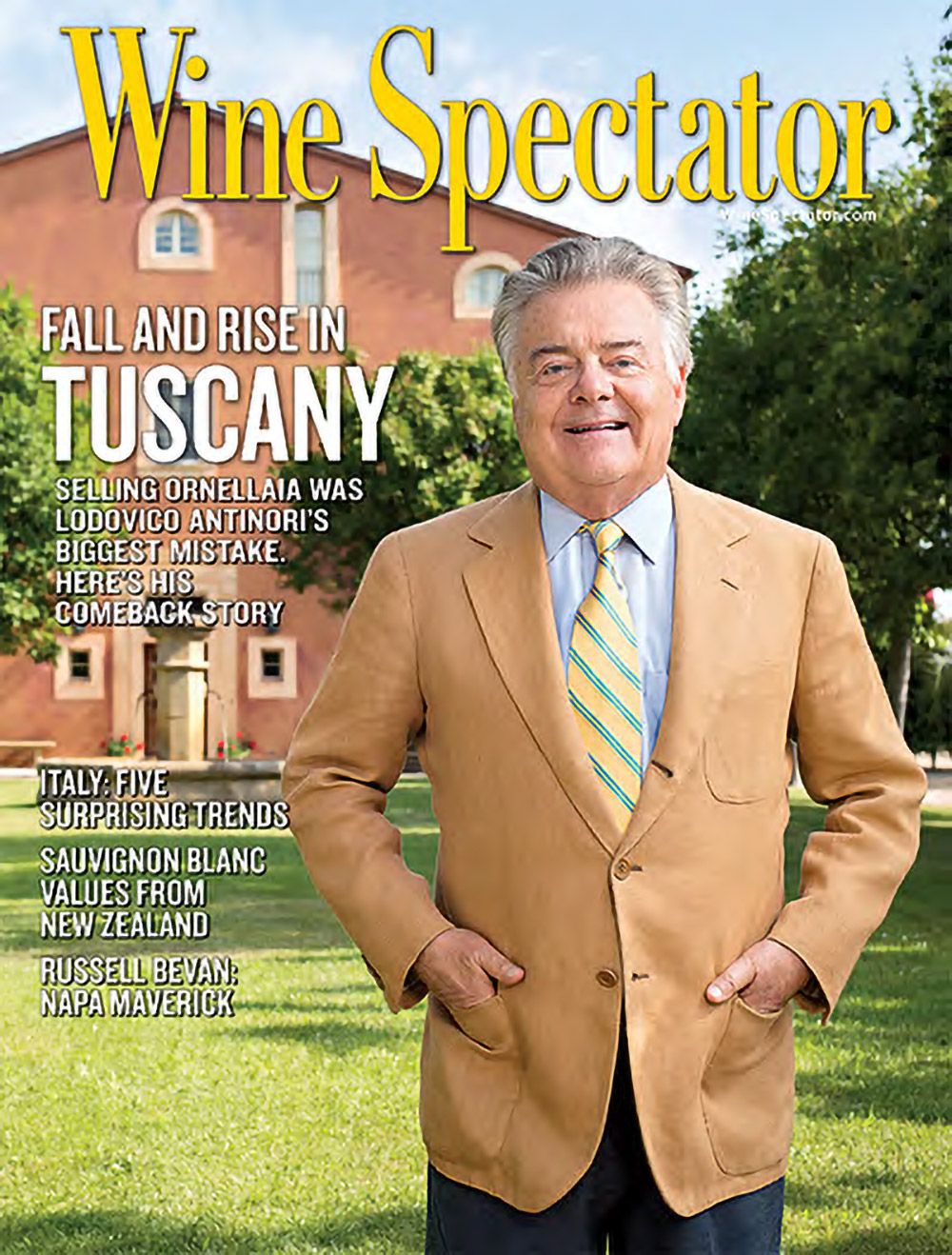 Wine Spectator
Oct. 31, 2016
The Prodigal Antinori
Lodovico Antinori's wine life has played out in two dramatic acts.
As a younger man in the 1980s, the flamboyant Antinori parted ways with his older brother, Piero, head of the family wine dynasty, as he set out to form his own super Tuscan estate in Bolgheri. On the family's wild scrublands, he planted Bordeaux varieties to create Tenuta dell'Ornellaia, whose namesake offering is one of Italy's most iconic modern wines; Wine Spectator named the 1998 its 2001 Wine of the Year.
But in early 2002, the self-described "creative and impulsive" Antinori says he committed his life's major error-selling his remaining interest in Ornellaia to Robert Mondavi Winery, which soon turned around and sold 50 percent to the Antinoris' chief competitors, the Frescobaldis (Ornellaia's main owners since 2005, with SPI Group and Mondavi buying minority stakes in 2006).
"My father always told me one big mistake is allowed in life," says a now-humbled Antinori. "I did the one big mistake of my life selling Ornellaia."
Now, at 71, Antinori is looking for redemption in his second act. He is 14 years into a new estate, with vineyards that border those of Ornellaia and with Piero and the family wine company as partners. Tenuta di Biserno, based largely on Cabernet Franc and Petit Verdot, is bearing fruit-with 22 wines scoring 90-plus points in Wine Spectator tastings.
The pains of a startup have been tough. Yet at an age when most of his peers are living off their achievements, Antinori is striving to prove himself once again-traveling the world to promote his wines, from the entry-level Insoglio del Cinghiale Campo di Sasso (typically about $30, with the 2011 earning 90 points) to the tiny-production Lodovico (at $280, the 2011 scored 94 points).
This time, he says, he is taking steps to ensure the estate will stay in the family after he is gone. A lifelong bachelor, he plans to leave his interest in a family trust.
In contrast to his independent, any-expense-goes years at Ornellaia, these days Antinori's family is backing up the organization with administrative rigor. Lodovico and Piero's nephew Niccolò Marzichi Lenzi has helped turn Biserno from a money-losing critical success into a profitable one and was named chief financial officer earlier this year.
Though winemaking is now based in a pair of local warehouses, groundbreaking on a new state-of-the-art winery on the property is planned for next year.
"I'm very different now because of age and maturity, even if the maturity came late in my case," says Antinori, blue eyes shining as he sprawls on a sofa at Biserno's elegantly restored 18th-century farmhouse that serves as both tasting center and boutique hotel. "I'm like those vintages that never get mature, and at the end there is a surprise ... better late than never."
for subscribers of Wine Spectator