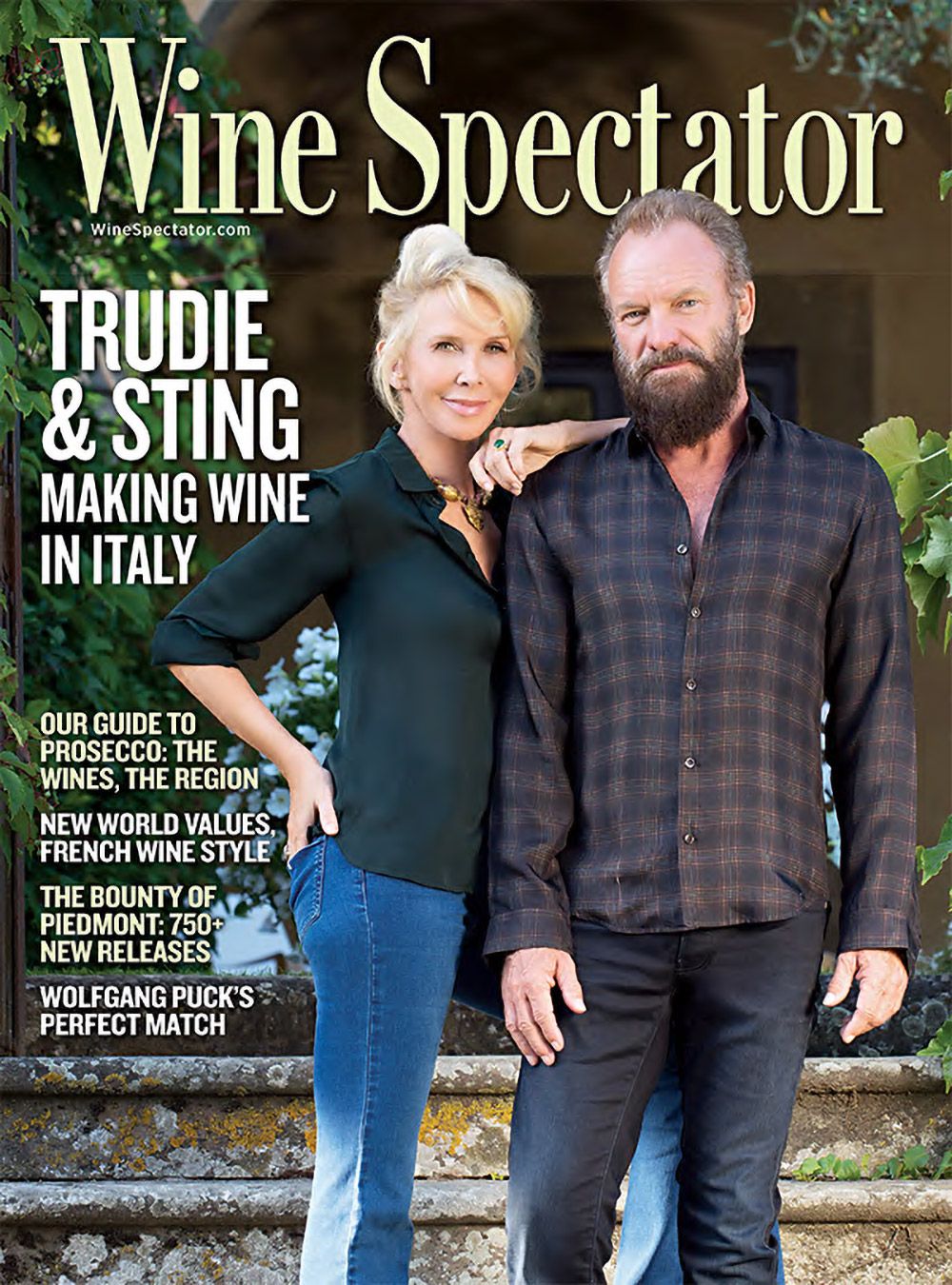 Wine Spectator
April 30, 2016
Sting and Trudie's Tuscan Adventure
In the countryside southeast of Florence, Italy, winemakers and other locals gather for an aperitivo on a gorgeous midsummer evening. Wine flows and fresh pizzas emerge from a wood-fired oven as the sun sets behind the Chianti hills.
A trim, bearded Englishman wearing jeans and a T-shirt, who has been mingling in the crowd, mounts the tiny stage with an acoustic guitar. He launches into a solo version of the Police's 1983 chart-topping hit "Every Breath You Take."
The crowd is galvanized by the familiar voice and the energetic reinterpretation of a classic song. For the man is none other than the song's creator.
At 64, Sting, the legendary Police frontman turned solo performer, has accumulated 16 Grammy awards and still fills arenas around the world. But the artist and his wife, Trudie Styler, are taking a break from a European tour to unwind at Il Palagio, the Tuscan estate they purchased in 1997.
Over the years, the couple has brought the nearly 900-acre property back to productive life. They replanted its vineyards and launched a boutique winery based on biodynamic and organic principles. They produce other crops as well-olive oil, honey, beans and more-and sell them at the Tenuta Il Palagio Farm Shop, where this evening's festivities are taking place.
Though Sting and Styler make no pretense of being winemakers, their stewardship has given new life and prestige to an estate that formerly produced bulk wines. They have assembled a team that has produced outstanding wines. And they have become part of the community.
Giovanni Manetti, owner of the highly esteemed producer Fontodi, is among the guests. "They have everything [they need] to do well," Manetti says. "They have great passion for quality and love for the place."
Another fan is Giulia Mugnai, the 29-year-old mayor of the commune of Figline e Incisa Valdarno (population 24,000). "It's very important to us the way [Sting] takes care of a piece of our countryside," says Mugnai.
As an encore, Sting performs an unplugged version of "Message in a Bottle," his 1979 hit. By the end, the crowd is chanting along: "Sending out an SOS ... Sending out an SOS."
And in fact, Il Palagio needs help. Despite its critical successes, the sprawling estate threatens to become a financial burden-even for Sting's fortune, estimated at $300 million. But Sting and Styler are forging ahead.
"I think in some ways it's a pejorative: celebrity wine. Because there is so much of it," Sting says. "We haven't been here for generations. But we are serious. We are committed..."
for subscribers of Wine Spectator